Ag-Wire
Ag-Wire is New Zealand-made high tensile vineyard/fencing wire with reliable strength and proven galvanised coating.
A quality product, Ag-Wire is compatible with Ag-Beam and other Ag-Steel products, for your horticultural structure.
Benefits
HIGH TENSILE
Ag-Wire is a strong high tensile wire with 1050-1450 mpa strength.
SUPERIOR PROTECTION
Long-lasting zinc/aluminium galvanized coating is manufactured to the AS/NZS 4534 standard.
AG-WIRE RANGE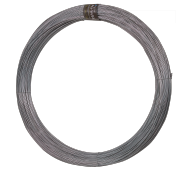 AVAILABLE MEASUREMENTS
2.5mm MZHT Galvanised 25kg Coil
2.5mm MZHT Galvanised 39kg Coil
3.15mm MZHT Galvanised 25kg Coil
To find out more about what makes Ag-Steel products the leading choice for New Zealand's horticultural industry, contact our team today.
CONTACT US