Ag-Brace
Ag-Brace, in conjunction with the Ag-Beam system, will increase load capacity in orchards with wide bays or side skirts. Custom-designed for New Zealand's kiwifruit industry, and manufactured to withstand environmental factors, Ag-Braces can be retrofitted onto existing timber posts and Ag-Beam.
Benefits
STRONG GRADE
Ag-Brace products are manufactured from strong grade 310 (min 310 mpa) steel with proven load strength for past and future fruit yields.
SUPERIOR DESIGN
Ag-Brace is made from the same strong steel section used in Ag-Beam, providing a stronger alternative to other designs.
EASY INSTALLATION
Ag-Brace can be installed by one person with a drill and tek screws.
SUPERIOR PROTECTION
Z450 galvanised coating provides superior weather protection.
INCREASED CAPACITY
Ag-Brace provides structural strength to the Ag-Beam, increasing carrying capacity. Commonly used in existing orchards where Ag-Beam spans are wide or to support side skirts.
AG-BRACE RANGE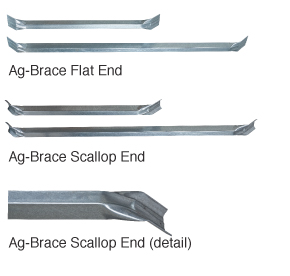 AVAILABLE MEASUREMENTS
1.2m x 1.15mm Flat End
1.85m x 1.15mm Flat End
1.2m x 1.15mm Scallop End
1.85m x 1.15mm Scallop End
SUPPORTING PRODUCTS
Install your Ag-Brace with our superior screws.
To find out more about what makes Ag-Steel products the leading choice for New Zealand's horticultural industry, contact our team today.
CONTACT US