Ag-Beam
Ag-Beam™ is the leading solution for New Zealand's kiwifruit industry - built to carry the increasing weight requirements of today's orchards. Supplied by Industrial Tube Hamilton since 1994, this New Zealand-made steel solution provides significant environmental benefits over a timber alternative.
Benefits
PROVEN RELIABILITY
Ag-Beam's early structures continue to support vines in many orchards. 
Load strength
Manufactured from strong grade 310 (min 310 mpa) steel with proven high load strength to support current high fruit yields.
Simple installation
Ag-Beam, Ag-Brace, Ag-Joiner and Ag-Staples work in harmony to provide an efficient and cost-effective system.
INSECT RESISTANT
Ag-Beam's steel solutions minimise insect and fungus accumulation seen in timber products, offering an environmentally friendly alternative.
Superior protection
Z450 galvanised coating provides superior weather protection.
Customised thickness
Two wall thickness options available to suit orchard load or spacing requirements.
Variable lengths
All Ag-Beams are offered ex-mill in variable lengths, 5m to 11.5m.
Structural strength
User Friendly Ag-Beam joiners can be supplied in various lengths and used to enhance the structure's strength.
Sustainable
Fully Recyclable
AG-BEAM RANGE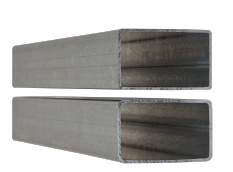 Ag-Beam and Ag-Joiner
AVAILABLE MEASUREMENTS:
64 x 38 x 1.15mm
Ag-Beam (Standard)
68 x 43 x 1.55mm x 400mm
Ag-Joiner (Standard)
64 x 38 x 1.55mm
Ag-Beam (Heavy)
68 x 43 x 1.85mm x 400mm
Ag-Joiner (Heavy)
SUPPORTING PRODUCTS
Enhance your Ag-Steel structure with supplementary products from the Ag-Steel product family:
Ag-Joiner
Ag-Cap
Ag-Brace
Ag-Fix
To find out more about what makes Ag-Steel products the leading choice for New Zealand's horticultural industry, contact our team today.
CONTACT US