Ag-Pole
Ag-Pole is an exclusive Ag-Steel product designed to carry the weight of netting in New Zealand's harsh environment. A strong and reliable organic alternative to traditional timber poles, Ag-Pole does not require post holes so can be installed close to plants in existing orchards with minimal disruption to the root system.
Proudly designed and manufactured by Industrial Tube Manufacturing in New Zealand, Ag-Pole is available with two socket options and variable fixing pin lengths.
Benefits
ORGANIC SOLUTION
Ag-Pole is an organic steel alternative to timber posts.
STRONG GRADE STEEL
Manufactured from strong grade 310 (min 310 mpa) steel.
SUPERIOR PROTECTION
Z450 galvanised coating provides superior weather protection.
LIGHTWEIGHT
Strong steel alternative to timber poles enables easy movement inside the orchard during installation.
SIZE OPTIONS
Ag-Pole comes in two socket and pin sizes based on ground conditions (Standard 88mm OD, Heavy 114m OD).
NO POST HOLE REQUIRED
Ag-Poles are secured in place on top of the ground by three steel pins.
CUSTOMISED HEIGHTS
Ag-Pole comes in standard 6m pole height, but special lengths are available on request.
ADJUSTABLE DESIGN
Post and sockets can be adapted to suit changing ground contours.
AG-POLE RANGE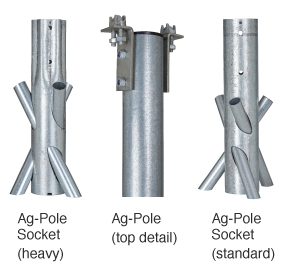 To find out more about what makes Ag-Steel products the leading choice for New Zealand's horticultural industry, contact our team today.
CONTACT US