Articles
Golden crop calls for weighty investment
1 May 2021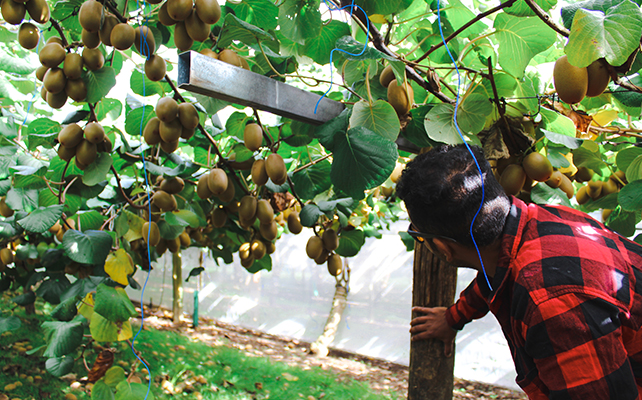 Billy Singh is hoping to pick 20,000 trays per hectare this season. That's a good crop but a large weight on his family's Katikati orchard. Like other growers, Billy is short on pickers and the season is late, but that's the least of Billy's worries.
What's really keeping him awake at night is the prospect of his structure collapsing and the loss he could incur should more vines collapse under the weight of this year's crop.
It's been six years since the family trust bought the 15 hectares at Sandhu Farms in Katikati, but working beneath the vines isn't anything new to him. Billy grew up on a kiwifruit orchard in Waihi and learnt the ropes under one of the best in the business, John Galloway. "John taught me what to invest in – shelter, irrigation, frost protection and structures," says Billy. "I've spent money on shelter and irrigation, but I hadn't yet invested in structures and now I'm experiencing them collapse in front of me. I've just got to hope there isn't a domino effect."
Built for growth
Billy's not alone with his concerns. His orchard was built for green and as he's grafted to gold, the structures can't handle the weight. According to Mike Posa, Key Account Manager for Ag-Steel, it's a common problem among kiwifruit growers nationwide. "We see a lot of partially collapsed orchards, where the weight of the gold crop is just too great for the existing structures," says Mike. "These large bays just can't hold the weight produced from a SunGold™ crop. The best solution is the approach Billy is taking… to add an Ag-Tripost between existing posts and run Ag-Beam which reduces the bay size by half, relieving weight from the existing structure."
Billy's ordered over 2,000 Ag-Triposts to ensure his third gold crop next year is supported as he needs it to be. "You don't know what you need until this type of thing happens, but it's worth the investment, even if it just gives me a good night's sleep." Some might say Billy's investment will be worth its weight in gold.
Back to all articles